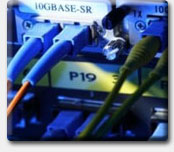 440Network requires a particularly complex technical architecture to generate the overall infrastructure of our sites. We have also taken every step to ensure that navigation and identification (login) are as simple and user-friendly as possible.
Custom Application Software

We use some of the top Web applications available such as Invision Power Board and MediaWiki, more importantly, we have developed a customized application based on the php/mysql couple to manage the specificity of our network, which includes several interconnected bilingual sites (English/French).

All-inclusive Software

With its complete mastery of Web applications, 440Network simplifies the use of complex services for visitors, for example by offering single sign-on for every site in the network. Open a user account on one of the network sites, therefore, and you'll gain instant access to each of the network's sites. No more creating one account per site to identify yourself: one "440network" login gives you access to the entire network.

Several Dedicated Servers

To run all of the network's sites, 440 Network uses its own hosting structure, 440net, currently composed of six dedicated servers with three different hosts, two in Europe and one in the U.S. For the past ten years, this material independence has enabled us to post over five million dynamic pages (php/mysql) per month, with an average uptime of 99.99%.

Open-source Architecture

Our servers rely on the best open source technologies available on the market. We use the Linux operating system—notably RedHat and Debian—to run our Web servers, which are linked by the Apache + MySql couple.